2012 CALIFORNIA ADVOCATE ROUNDTABLE
Watch Now
Runtime: 19:44 minutes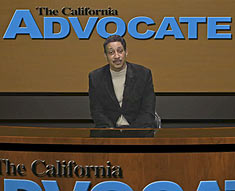 Featuring Andre Covington
Lisa Sondergaard Smittcamp, former Deputy District Attorney for the County of Fresno, is run­ning for the seat of Fresno County District Attorney, a very prestigious and impor­tant position to uphold. Only one other candidate is vying for this position, District At­torney Elizabeth Egan, who has held the position since November 2002.
Sondergaard Smittcamp was born and raised in Fres­no. Her parents, Martin and Ann Sondergaard, from the beginning, instilled in her to "help the underdog and to treat people with kindness and respect," she admitted. Sondergaard Smittcamp at­tended San Joaquin Memo­rial High School and gradu­ated in 1987 then attended the University of Southern California in Los Angeles and graduated with a degree in English in 1991.
Even though she graduated in English, she said she "al­ways wanted to be a prosecu­tor." After graduation from USC, she returned to Fresno and registered to attend law school at San Joaquin School of Law in Fresno.
While in law school, she participated in several in­ternships including, but not limited to, the Law Offices of McCormick Barstow and Fresno County District At­ torney's office.
Once she graduated and passed the BAR, she was in­stantly hired at McCormick Barstow in 1996. In 1997, she decided to approach the Madera County DA's office and was hired on the spot. After winning her first case there, she stated, "I knew that this (being a Deputy DA) was my calling and this is my pas­sion.
I get to relate and help people of different races and nationalities and I was happy to go to work everyday." She had a lot of success in the Madera County DA's office including being the recipient of the statutory rape pros­ecutor grant and from then on, Sondergaard Smittcamp was known as the "Sex Crime Prosecutor."
In 2000, she married Brent Smittcamp and moved to Kingsburg. Due to the long, sometimes foggy drive from Kingsburg to Madera, Son­dergaard Smittcamp decid­ed to approach the Fresno County District Attorney's office in 2001, and once again, was immediately hired, under the supervision of Dis­trict Attorney Ed Hunt.
"I started with general fel­ony preliminary hearings for six months then to a specialty team, which of course was the domestic violence team. I tried a lot cases and had a lot of success." In 2002, DA Ed Hunt retired and DA Eliza­beth Egan ran for his posi­tion and won. "I went to law school with Egan and I know her very well," Sondergaard Smittcamp says. In 2010, she went on to the homicide specialty team and after just three cases, was asked to go back to the domestic violence team, but now as supervisor. "It was my first opportunity to be in charge and it gave me the confidence that showed that I could run that office.
I changed that unit around from a 40% conviction rate to a 95% conviction rate, at trial, and I motivated young lawyers to care about domes­tic violence.
What I'm good at is training lawyers to become prosecu­tors. In order to be a prosecu­tor, you have to have advo­cacy skills, know your way around the courtroom and be able to connect with people," Sondergaard Smittcamp ex­plains. She supervised the domestic violence team until she resigned her position in August 2013.
Shortly thereafter, she de­cided to run for the top DA seat. "I'm running because I have to. I was encouraged to run by many judges, people in my office and many peo­ple from the defense BAR. I am a DA and this is my life's work. I will always work to improve my community and I am a passionate advocate for victims and always have been.
I also want to be a good role model for children which I think is imperative. Kids need just one person to shine light on their dreams and to motivate them to one day say they want to be just like me," she remarked.
Sondergaard Smittcamp's main endorsements include, but not limited to, The Fres­no Bee, City of Fresno May­or Ashley Swearengin, City of Fresno Police Chief Jerry Dyer, Fresno Police Officers Association, Clovis Police Officers Association Fresno Sheriff's Sergeants Associa­tion, Fresno County Pros­ecutors Association, Fresno County District Attorney In­vestigators Association, Oli­ver Wanger, Esq and Fresno City Council member Lee Brand.
Currently, her husband Brent is the President of Wawona Packing Company in Cutler and together, they have a daughter and a son. She is also a member of the Candlelight Guild and serves on the Board of Directors for the San Joaquin College of Law and the Majoree Mason Center that she enjoys being involved.
Sondergaard Smittcamp is very confident of her skills, background and training as a DA and announced, "If elected, I will continue to do good work and train other lawyers to do the same. Being a good DA is a gift that God has given me."
For more information about the Lisa Sondergaard Smittcamp campaign, please visit www.LisaSmittcamp. com or @Lisa Sondergaard Smittcamp on Facebook. You can also call at 559.643.2070.