2012 CALIFORNIA ADVOCATE ROUNDTABLE
Watch Now
Runtime: 19:44 minutes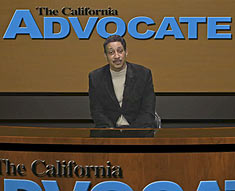 Featuring Andre Covington
Juan R. Sandoval consid­ers himself the most quali­fied person to hold the seat of Fresno County Superin­tendent of Schools. Sando­val will be running for the position in the upcoming primary election, to be held June 3, 2014. "I have been in education for over 30 years. From nine years of teaching at every level to 21 years of administrative service, from director, to human resources, to curriculum and instruction and then becoming a superin­tendent. I am truly prepared to be the next Superintendent for Fresno County." Sando­val will be running against incumbent Jim Yovino who has held the position since July 2013.
Sandoval's family emigrat­ed from Mexico in 1965. "We grew up in the area of Delano. McFarland, Richgrove, Mex­ico and settled in Wasco. I at­tended Bakersfield College, then on to Cal Poly San Luis Obispo in 1983. I went on to student teaching at Fresno State and by 1985 was hired in Delano and taught school there until 1991. Meanwhile, I started working on my ad­ministrative credential at Cal State Bakersfield and there­after, in 1991 was hired as Assistant Principal at Delano High School." In 1995, he be­came the Principal at Parlier High School. While at Parlier High, in 1998 he received a $2.3 million grant for a sys­tematic-wide dual imersion program. "It consisted of teaching children in their pri­mary language, traditionally Spanish, at 90% and teach­ing them English at 10%, ini­tially. Then, Spanish teach­ing decreased and English increased until the 5th grade where students are able to comprehend both languages 50/50," he stated. In 2003, he became the Assistant Su­perintendent of Human Re­sources of the Parlier School District. As of 2006, he then went on to become the Assis­tant Superintendent of Cur­riculum. By 2010, he transi­tioned to Raisin City where he became Superintendent of the district. Earlier this year, he returned to Parlier to supervise the curriculum in­struction for federal and state educational projects.
Sandoval's main platform is to fight for students and parents. "I fight for all mi­norities, not just Latinos. Bullying is one of our biggest issues. We need resources to counsel the victim and the person that is doing the bully­ing. Having a zero tolerance policy does not allow anyone to find out why it happens and how to not make it hap­pen again.
We also need to put more emphasis in our school dis­tricts to retain our good mi­nority teachers. These teach­ers are making a difference and an impact and are great role models for our kids," Sandoval stated.
Sandoval is an avid sup­porter of the Mexican Amer­ican Political Association (MAPA). 'MAPA is a grass roots based coalition with an organizational structure that functions as a collective of communal circles working together, at different levels, towards political empower­ment, self-determination and sustain-ability of the Latino community's future.'
Sandoval has worked alongside former President of MAPA Ben Benavidez advocating for justice and equal rights for over 22 years. "I have been fortunate to have worked with Ben from Lamont to Dos Palos to Delhi and we have fought up­front defending parents and student for equal rights and equal opportunities," stated Sandoval.
Sandoval is also the Presi­dent of the Joaquin Murrieta Memorial Calbagata Ride, where every year at the end of July, a group of men and women make a three-day pil­grimage, on horseback, from the Madera, California area to Arroyo Cantúa Creek in honor of Joaquin Murrieta. "This legendary, historical ride is a movement that start­ed 30 years ago in Cantua Creek, where it started with 30 riders to now over 300," Sandoval boasted.
Additionally, Sandoval is currently the President of the Cinco de Mayo Festival in Delano that is one of the big­gest events held in that area yearly.
Sandoval is married to Gudelia Sandoval who is cur­rently a Principal at Caesar Chavez Elementary in Parlier and has 4 children: Antonio, Juan Octavio, Yureli and Ad­aniza.