2012 CALIFORNIA ADVOCATE ROUNDTABLE
Watch Now
Runtime: 19:44 minutes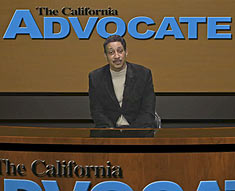 Featuring Andre Covington
It's official, as of August 2013, Fresno Unified School District's newest West Fresno middle school, formerly George Washington Carver Middle School, will be named after legendary school administrator and civic leader Rutherford "Bud" Gaston. Mr. Gaston's name was among over 100 entries and the final nominated names included Barack Obama, Thurgood Marshall, Rosa Parks, Henry Perea Garcia, Mary Curry, Dolphus Trotter, Armando Rodriquez, Jack Kelley, Gary Soto and Idell Smith.
Mr. Gaston has the honor of being FUSD's very first African-American principal and one of the very first African-American male educators to teach in the district. He held the highest standard of excellence for his students and while he was at Bethune Elementary, the school testing scores ranked number one in the State of California.
Mr. Gaston was born in Griffin, Georgia and raised in Pennsylvania. He also served in the United States Army in England and North Africa for over five years and was discharged as a 2nd Lieutenant. Mr. Gaston was married to the late Willodyne Shields Gaston and has five children.
Mr. Gaston earned his Bachelor of Arts Degree in Education at California State University Fresno and went on to receive his Masters of Arts Degree in Education at CSUF as well. He participated in both the "Team Learning" Committee at University California Berkeley and several Management Workshops hosted by FUSD.
Mr. Gaston formerly worked at the City of Fresno Recreation Department as a Playground Leader at Columbia Elementary. He then became a teacher at Columbia and taught for over 10 years. He was later appointed to elementary school principal and administrated at Emerson, Teilman, Jefferson and Bethune Elementary. For seven years during the summer months, Mr. Gaston was project director for the summer Youth Employment Training Program.
Mr. Gaston is a member of the board for the Boys and Girls Clubs of Fresno, Fresno Metropolitan Museum, Saint Agnes Medical Center Foundation, San Joaquin Gardens, Fresno Chaffee Zoo, Kiwanis Club of Fresno, Trustee at Second Baptist Church and the Martin Luther King, Jr. Unity Committee.
Mr. Gaston is a member of Second Baptist Church in Fresno where he is a part of the Laymen's Movement as well as the NAACP, Black Political Council, CSUF Alumni Association, CSUF President's Club, King Solomon Lodge #6 F&AM, Saphar Temple #117 and Phi Delta Kappa Honor Society in Education.
Mr. Gaston also a candidate for Fresno County Supervisor for District 3 in 2000.
His past services include being on the Advisory Board for KSEE 24; a Board Member at the Fresno City and County Historical Society; founder and past president of the Black Educators of Fresno; the 1977 Desegregation Task Force for FUSD; President of FUSD Elementary Principal of the Juvenile Justice Commission, Fresno City; City of Fresno Redevelopment Agency (Urban renewal: St Agnes Street; Renewal at the Fulton Mall and the West Fresno Renewal Plan Area); Women and Minority Liaison for CSUF; Boundary Committee for FUSD, City of Fresno Parks and Recreation Committee; City of Fresno, Ethics Committee; Planning Commission for the City of Fresno for 12 years; Leadership Fresno; Steering Committee from 1987-1989; Charter Review Committee, for the City of Fresno; Strong Mayor; President of the United Black Men of Fresno for 10 years; CSUF President's advisory board; The American Cancer Society Board of Directors; The Clovis Unified School District Multicultural Committee; Arts to Zoo Citizens for Community Enrichment Program; Camp Fire Association; The 20th Century Golf Club and a member of the Hinton Community Center committee.
Mr. Gaston said he is very proud of his nomination and excited for having his name nominated. The California Advocate salutes Mr. Gaston for all of his community involvement and activities.