2012 CALIFORNIA ADVOCATE ROUNDTABLE
Watch Now
Runtime: 19:44 minutes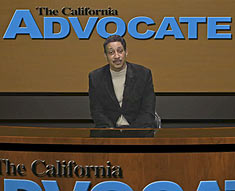 Featuring Andre Covington
Fresno has not witnessed a presidential visit since President George W. Bush campaigned here in 2003. We did not know how to act. Fresno Police staged motorcades at every service road leading to the Fresno Yosemite International (FYI) Airport, surveying crowds of parked onlookers, corner protesters and cruisers withameras and signs. People were laid out on top of their cars, parked side by side, as if expecting a barbeque meal for the fourth of July at lovers lane off Chestnut and Dakota.

"People were sitting there for hours waiting to see an airplane, not even the president but an airplane...they were sitting on their cars and clapped when they saw a plane fly by," said nearby resident Felix Hernandez.

Traffic slowed to a crawl on Airways as drivers circled the airport for hours waiting to get a glimpse of some of the action whether it be Marine One or Air Force One as a sign confirming the president's arrival-this went on even after he left the airport and proceeded to this next stop in Madera County.

The county's largest city had to become dehydrated, crippled and declared in a State of Emergency to compel the Chief of State to just touch ground in the state's Agricultural heartland. And President Barack Obama did make it rain.

He brought an entourage of traveling media which somehow crammed into the tail end of Air Force One and managed to set up cable wires, cameras, and reporters before the front door was unlatched and opened for the president's descent. He attracted foot media from as far as the Madera Tribune. He also brought Senators Diane Feinstein, Barbara Boxer, Rep. Jim Costa and Governor Jerry Brown, who appeared to be forgotten upon arrival of Air Force One. He also brought the aid of millions of dollars to Valley farmers whose animals and produce were suffering from one of the greatest droughts in nearly a century.

Air Force One arrived promptly at 2:40pm on February 14, leading into President's Day Weekend, in the middle of Black History Month. The presidential aircraft could be mistaken for a regular 747 if the words "United State of America" weren't showcased in ginormous, bold letters on the side, and if the president wasn't inside. In fact, Air Force One is one of two highly customized Boeing 747-200B. It is equipped with unlimited fuel and secure communications equipment to empower the president to run the nation from within the 4,000 square foot platform. No wonder the traveling media was the envy of local affiliates.

Obama was fourth in line to descend in a relaxed yet clean cut button-down shirt and jacket that resembled Mr. Rogers, a message conveying he was business casual while also being suited enough to handle important matters such as addressing the arrival of $160 million in federal assistance to the drought-stricken state. He proceeded down the aircraft stairs with light footed energy.

Obama was greeted by Mayor Swearengin at the foot of the stairs, she held conversation with him for about 60 seconds before the president proceeded to Marine One, followed by the rest of the political party.

Council member Oliver Baines of District 3 was there for the historic event, "I was thrilled to see President Obama come to Fresno and spend a few moments with our Mayor talking about key investments and support the federal government has been making in Fresno," said Baines.
Just when media lost all hope that he would walk over to the box we were caged in and take a few questions, he surveyed the large crowd in a brief swoop of his head and lifted his left hand, still holding attention, and gave the most inspiring of waves this reporter may ever witness in her lifetime.
He arrived in Firebaugh to engage in a table discussion at the San Luis Water District Facility where he joined state officials such as Governor Brown, Representative Jim Costa, Arturo Rodriguez with the United Farm Workers, Andy Souza from the Fresno Community Food Bank and other stakeholders connected to agriculture.
During his three-hour visit to the Valley he also toured and spoke at a private farm in Los Banos in Merced County, one of the counties suffering from the severe drought, detailing the need for financial aid to rescue other farmers from mother nature's great hold out.
Obama stood with U.S. Secretary of Agriculture Tom Vilsack, Governor Brown and an independent farming family to talk about the newly approved Farm Bill and additional efforts for assistance, nearly one month after California was declared in a State of Emergency by the governor.

President Obama announced accelerating $100 million from the Farm Bill he signed the week before to help ranchers, and an additional $15 million to states affected by drought, according to the White House Press Office. The $100 million is to be used for livestock disaster assistance, $60 million was also set aside for California food banks, and 600 summer meal sites in drought affected areas of the state. Farmers can apply for assistance as early as April of this year.

Although the House passed a drought bill spear-headed by Rep. Devin Nunes, President Obama urged Congress to pass legislation drafted by Senators Feinstein, Boxer and Representative Costa, which offers $300 million in aid to farmers affected by the drought.
"And I hope that Congress considers the legislation that they have crafted soon, work through some of the concerns that have been expressed – let's make sure that we're getting some short-term relief to folks, but also long-term certainty for people who are going to be harmed by this drought."

Obama made sure to talk about his upcoming budget proposal which includes a Climate Date Initiative focusing on how rising sea levels are affecting coasts and inland areas. The president said there isn't an easy fix to solve the state's water woes but rather called all parties to work together in the effort.

"Instead what we have to do is all come together and figure out how we all are going to make sure that agricultural needs, urban needs, industrial needs, environmental and conservation concerns are all addressed. And that's going to be a big project, but it's one that I'm confident we can do."

Meanwhile the media continued to camp at FYI to capture the president's send off in Air Force One. It was at 5:30pm that Marine One was seen flying over the city to return the president to the temporary home of Air Force One at FYI Airport.

The president was received once again by crowds of people parked in lawn chairs and cars while surrounding the out skirts of the airport to survey what may be his last visit to the area.

"He was the first one to descend (from the airplane) and that showed such leadership. He stepped out and put on his suit coat and came down the stairs in such noticeable style, showing his leadership skills," said Ken McCoy, long-term entertainer and photographer.

President Obama left FYI and continued on the journey to the Palm Springs area where he met with King Abdullar II of Jordan and played golf at Sunnylands estate during President's Day weekend.